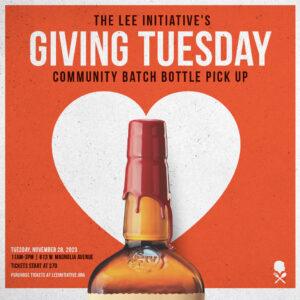 Here at F&D, we believe that education is good.
Consequently, as a refresher, The LEE Initiative, a 501(c)(3) nonprofit organization, is an acronym for Let's Empower Employment.
When we see a need for more diversity, equity, sustainability and compassion in the restaurant industry, we find innovative and impactful solutions. We create programs that make a real difference in the lives of the next generation of restaurant industry professionals. We help our community and inspire others to get involved.
And speaking of refreshment, this year's CommUNITY Batch is ready for pickup in conjunction with Giving Tuesday on November 28. Since 2020, a series of unique CommUNITY batches has been blended using stave percentages from Maker's Mark Private Select expressions.
The 2023 CommUNITY Batch is a unique expression that was created by blending the Private Select recipes of WCSP mentors Amy Biller (Chicago), Jesse Peterson (San Diego), Christa Cotton (NOLA), Chef Ouita Michel (Midway/Lexington), Chef Beverly Kim (Chicago), and Chef Jessica Koslow (LA).
In turn, WCSP is the Women Culinary & Spirits Program, formerly Women Chefs of Kentucky.
WCSP was our first program, founded in the wake of the #MeToo Movement. Now in its fifth year, the program is national and has expanded into the spirits world. Mentees spend a week-long externship at a female-led restaurant or beverage program, and participate in programming that includes bourbon blending at Maker's Mark, butchery workshops, cooking sessions at the Monogram Experience Center, and numerous other trainings.
You can find further information, and secure your bottle of the 2023 blend, using this link. Supply is limited, and it's a first come, first served proposition. Each ticket for pickup includes one (1) bottle of Maker's Mark CommUNITY Batch 2023, but you can add CommUNITY Batch editions from 2021-22, the WCSP's Private Select bottles "The Matriarch" (2021), "Ceiling Smasher" (2022), "Empress" (2023), and various special Collector's Sets.
The post The LEE Initiative's Maker's Mark CommUNITY Batch arrives for Giving Tuesday appeared first on Food & Dining Magazine.